2019 has been in a year where I've got to know an eastern european member of the routing and switching world – Mikrotik.
Founded in 1996 in Riga, Latvia, Mikrotik are widely popular in the wireless internet service provider world. Their routers have a huge offering of features in a very affordable package, you can pick up a router for less than £30 (hAP lite, here) with all the same software features as their most expensive offerings.
The difference in price comes with what hardware the software runs on. Mikrotik provide block diagrams on their website showing what the model number of specific hardware are capable of:
The hAP for example, has wire speed switching on 10/100M ports, dual chain WAN, and a 650Mhz CPU speed.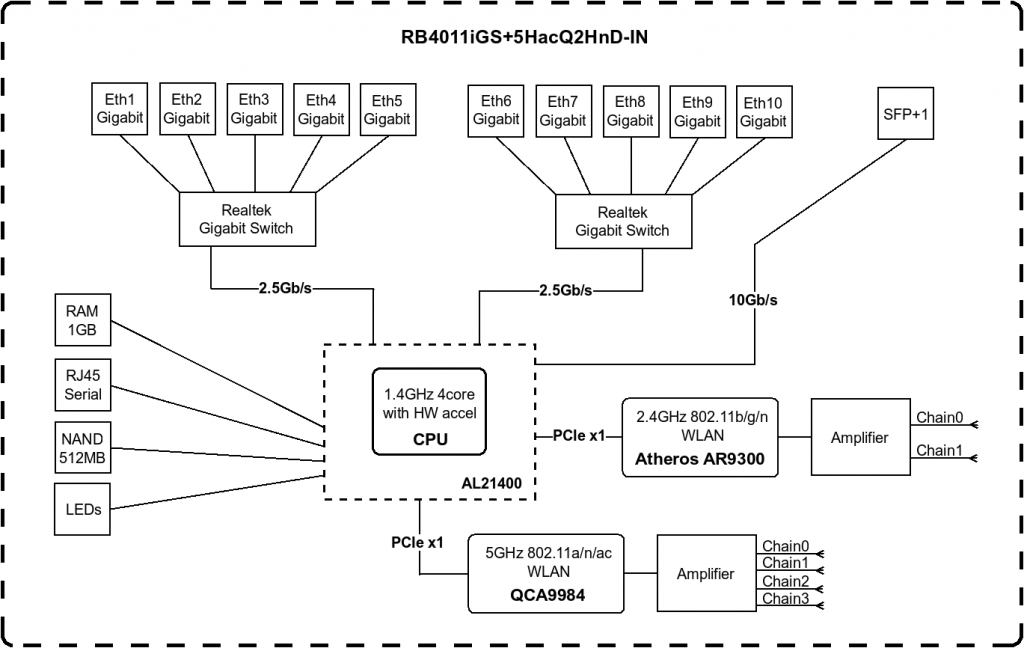 If you compare that to the RB4011 on the higher end of the scale, you can clearly see what the extra premium in price is paying for: Two built in switches, 2.4Ghz and 5Ghz wireless, and a quard core 1.4Ghz processor.
I'll say again though, the operating system that runs on both pieces of hardware is exactly the same. You can grab the configuration from one and pop it on the other with little or no configuration changes.
This operating system is called RouterOS, developed behind closed doors at Mikrotik HQ. It emulates many powerful features that would simply be too many to list here. Check out their well documented wiki to get a taste.
I hope to cover more on specific devices and tools on here soon, perhaps along with some common questions I see online.