The new TSHOOT exam requires you to isolate issues on a defined network topology. The purpose of the exam is to evaluate troubleshooting skills, not how quickly you can grasp a network topology you have never seen. To this end, it is Cisco's intent that the exam network topology be available for review before the candidate attempt the exam.

https://learningnetwork.cisco.com/thread/10965
As practice I mirrored the topology in the linked thread to an easy to read topology below.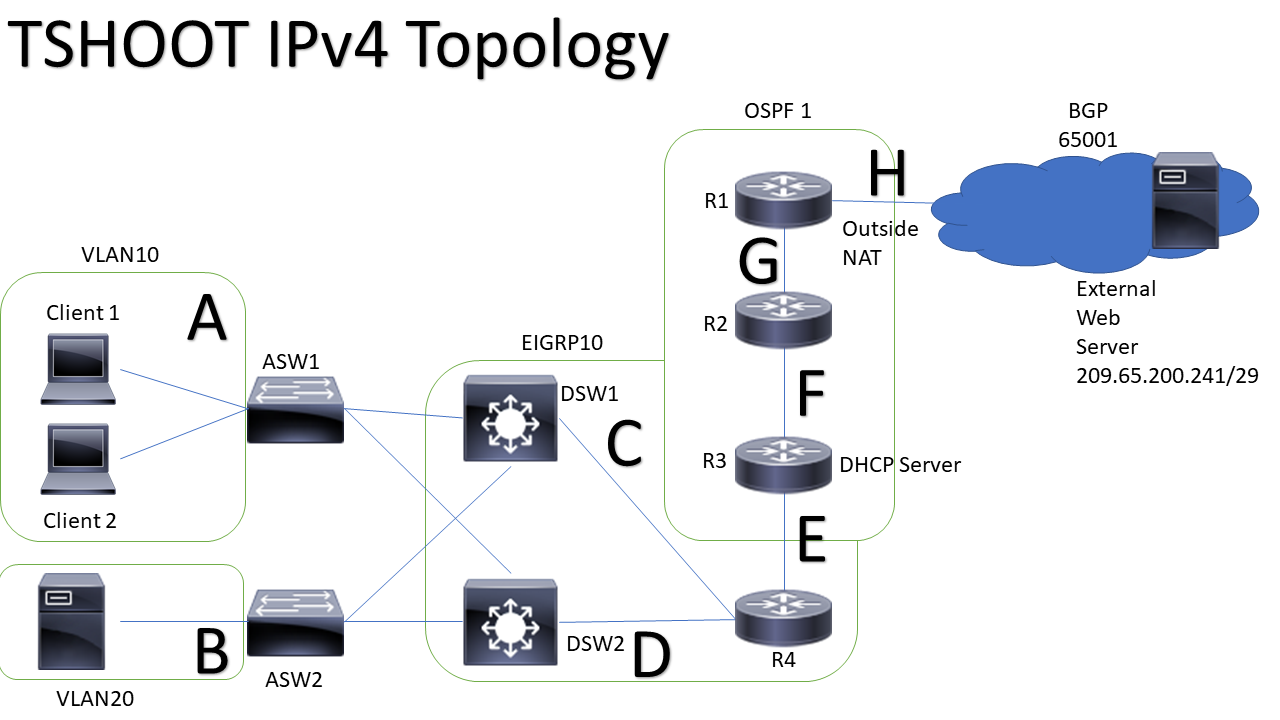 A - VLAN 10 - 10.2.1.0/24DSW1 - 10.2.1.1DSW2 - 10.2.1.2
B - VLAN 20 - 10.2.2.0/24
DSW1 - 10.2.2.2
DSW2 - 10.2.2.1
C - DSW1 <-> R4 - 10.1.4.4/30
DSW1 - 10.1.4.6
R4 - 10.1.4.5
D - DSW2 <-> R4 - 10.1.4.8/30
DSW2 - 10.1.4.10 
R4 - 10.1.4.9
E - R4 <-> R3 - 10.1.1.8/30
R4 - 10.1.1.10
R3 - 10.1.1.9
F - R3 <-> R2 - 10.1.1.4/30
R3 - 10.1.1.6
R2 - 10.1.1.5
G - R2 <-> R1 - 10.1.1.0/30
R2 - 10.1.1.2
R1 - 10.1.1.1
H - R1 <-> WAN - 209.65.200.224/30
R1 - 209.65.200.225
ISP Router - 209.65.200.226
X - Link between DSW1 and DSW2 (not shown) - 10.2.4.12/30
DSW1 - 10.2.4.13
DSW2 - 10.2.4.14